Product description:
[APPLICABILITY] Remove the broken or damaged screws.

[EASY TO USE] Just 3 easy steps. Removes every stripped screw in 10 seconds or less!

[MATERIAL]: NINDEJIN double head damaged screw remover is made of high speed steel 4341; hex shank hex shank 1/4" is made of high speed steel 4241.

[DIFFERENT SIZE AND TYPE] This screw remover set itself comes with five different size bits. Two sides can be used. So it can be used on any screw types / size. The hex shank 1/4" Threaded head design for better grip and better use;

[What you get] 5 pieces screw remover.
Note: If you have any confusion, please feel free to cantact us, we will answer your question with profession attitude.
Package:
5 * screw extractor
1 * plastic case
Remover 0 # diameter 2-3mm
Remover 1 # diameter 3 - 5mm
Remover 2 # diameter 4 - 8mm
Remover 3 # diameter 5 - 10mm
Remover 4 # diameter 6 - 12mm
​FAQ
1.Wholesalers and retailers are welcomed.
For wholesale,we will offer discount or free express shipping which only takes short time to arrive.
If you are a retailer and want make your own business, we could send the goods to your customers directly and won't leave information about us if you'd like to.
2.What should I do if I don't receive my item?
Please contact us first, we will track your item. If you can't receive it, we will full refund or resend it for you. We are honest seller, so don't worry.
3.If the products have problems how to do it?
Please contact with us in time, we will help you solve it.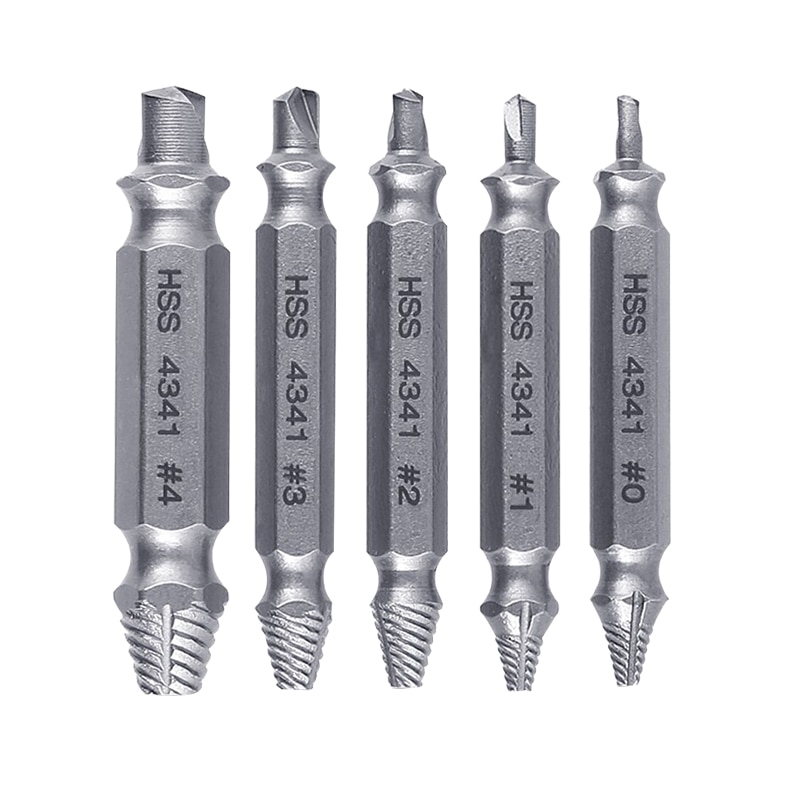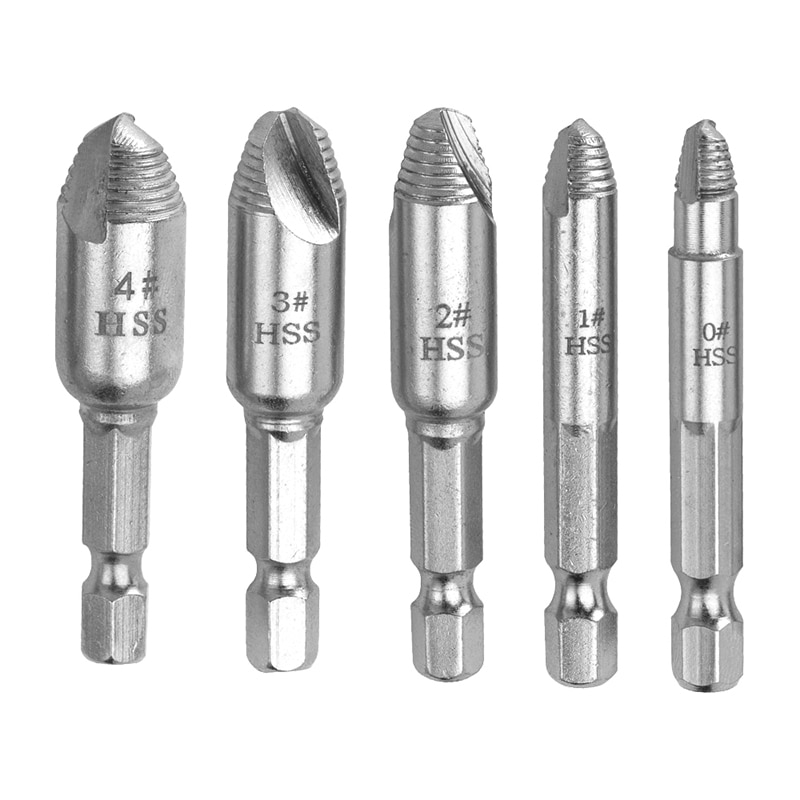 Tips for using:
1. Firstly, using drill head to penetrate drill, be careful not to use the impact hammer gear, with the normal screwdriver gear.
2. Secondly drilling time to the slowest speed, there is a fixed speed with fixed speed, no in the end speed file a certain to be able to  evenly rotate.
3. After the volley speed is stable and then aligned with the top of the screw center for a long time. Don't worry, be patient.
4. Then when you obviously felt drilled into and drilled for a while, and then for another.
5. The head rotates, puts the rotating head into the hole just drilled, presses and turns on the electric screws .It can be removed normally.
6. The whole process  reverse operation!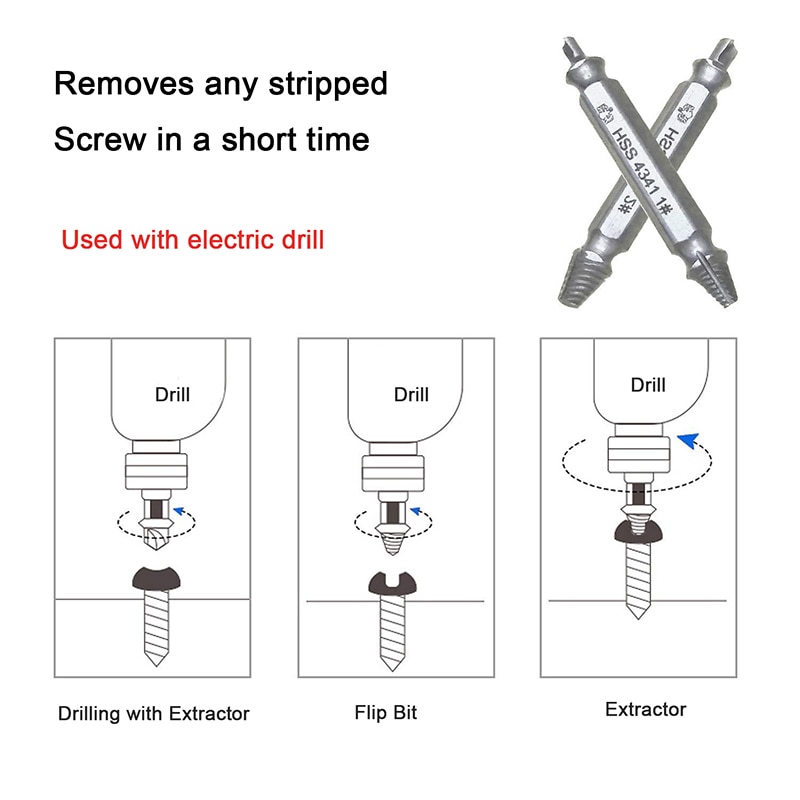 Note:
1. The remover is designed for screws that slide or break the head, and the stuck or rusty screws need to be operated together with the flashlight drill. And the speed should be slow, do not be too high or suddenly speed up.
The whole process needs to reverse the operation, first take one head open, then take the other end out, the success rate of the removal is very high.
2. Hardness at 58 degrees -60 degrees, wood screw is no problem (not suitable for steel plate operation)
3. The remover is suitable for orthodontature screws, anti- screws are not applicable
 
Q: What are the skills for novices?
A: The bit speed can't be too fast, so low speed!Broken wire extractor is double-ended.
Step (1): Drill bit that head first drilling, speed needs to be based on different material settings.
The harder the material, the slower the speed of the drill
Step (2): When the extractor is taken out, the drill should be reversed, and the rotation speed should not be too fast. Otherwise, it is easy to slip the teeth. The extractor should be able to slowly remove the screws.